Note Readers for Sale (GBA ST1-C)
for Vending Machines in Australia
Introducing the new GBA ST1-C Bank Note Reader designed for vending machines here in Australia!
We are proud to offer and present for sale to the vending industry here in Australia the GBA ST1-C Note Reader / Bill Acceptor.
The GBA ST1-C Note Reader delivers great performance and functionality previously restricted to top end note readers and offered at a great price ... Buy NOW and SAVE!
It is a very cost-effective, compact and sleek unit ~ the GBA ST1-C Note Acceptor unit is available for all types of vending machines including drink, snack, combo, coffee, cigarette, ppe, ice, flower, pizza vending machines.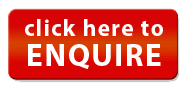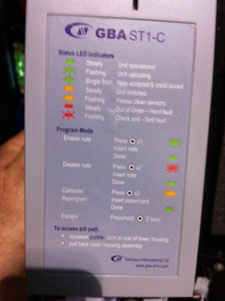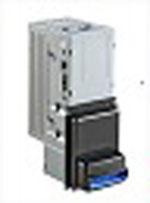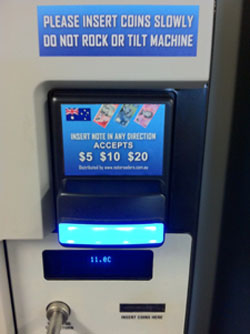 Bank note readers (bill acceptors) are very popular ifor vending machine applications where:
• Higher-priced products are offered on or for sale
• Convenient bank notes are available (the $5, $10 & $20 are more commonly used)
On order programming to also configure the note reader to take a $50 or $100 dollar note is also available.
Each iondividual industry has its own particular requirements for a note acceptor, which include:
• physical dimensions what size the note cassette is ... say a 300 note cassette compared to a 100 note cassettte there is a difference ... 8 cm (300 note cassette) compared to 3.5 cm (100 note cassette).
• exact note denomination acceptance
• security ... anti-stringing sensors
• note stacking options
• peripheral to host communications ... remote monitoring etc.
For example, food/drink vending machines generally call for MDB communications protocols and low security cashboxes, whilst carpark ticketing machines typically require serial RS232 or PULSE communication and security protocols, removable note cassette (this holds the notes ~ money ~ $$$).
Product Information

The popular Global Bill Acceptor, GBA, is a widely distributed and accepted bank note reader, which is renowned for its simplicity, reliability and capacity to accept a wide range of world currencies.
The new GBA ST1-C offers a new dimension in note acceptors, as a cost-effective, compact banknote stacker unit.
The GBA ST1-C is a versatile, multi-orientation bank note reader which is designed for those compact applications that require minimal height clearance in either an upwards or downwards note stacking orientation.
It is a global product, which can be used in any application with notes up to 70mm in width.
With its technologically advanced "Sense Technology" note validation platform, secure note cassette and internalized connections between upper and lower housings, the GBA ST1-C is a sleek, compact and affordable solution for its market place.
The GBA ST1-C delivers the performance and functionality previously restricted to top end note readers and note validators, at a great price to suit please most budgets.
Whilst the GBA ST1-C meets all the standards expected of a note reader / bill acceptor, the focus has been on reliability and serviceability.
That's why we have teamed up to offer the GBA ST1-C note acceptor – the most cost-effective, compact banknote stacker unit for vending machines in Australia.
Key features include :
• Illuminated, blue flashing note guide as standard
• MDB interface
• Accepts notes in 4 directions
• Stylish fascia
• Internal connections between housing components
• Single Note Escrow
• USB download capable
• Push-button, on board diagnostics
• Secure, lockable (optional) removable note cassette
• Comprehensive GBA Talk software support package
• Simple access to the internal ST1-C note path for maintenance
Service

We are dedicated to providing the best customer service possible.

Feedback and requests are always welcome. We provide service with a smile.
For service information, contact the service centre.
For any items returned under warranty or for repair, COMPLETE written information, including serial and model number, as well as a description of the malfunction or defects, must be submitted to the service centre when requesting a Return Material Authorization (RMA).
Owner accepts full responsibility for any return without prior authorization.
The RMA number must be displayed on the exterior of the returned carton(s).
Shipping Damage

When a product is returned to the owner after service, only consignee (the person or company receiving the note reader / bill acceptor) can file a claim against the carrier for concealed damages.
Therefore, unpack IMMEDIATELY.
Notify the delivery carrier of damages and request immediate inspection.
Send a letter of intent to file claim to the carrier within 72 hours from time of receipt.
Send a copy of the letter to the shipper.