Australian Vending Machine Suppliers
Vending Machines Australia
Vending Machines Australia is an Australian owned supplier & organiser of vending machines.
So if you are in need of a Vending Machine... of virtually any type... we are the guys to ask us for the right advice.
We have been in vending for over 12 years and with our combined knowledge.
We would have over 100 years worth of info and know how... from our vending machine repair technicians and virtually... the ALL major vending machine suppliers in Australia.
We are very confident in able to supply you or your business with virtually any type or size of vending machine you can think of.

If you're looking for vending machine for sale, new or used... or to Lease a machine... or Get a FREE vending machine supplied and installed... then you've come to the right Vending Machine Supplier.
Call Us or Email us today... we'll look after you!
Vending is Never Ending and you learn something new everyday!
Our involvement in New technologies for the Australian vending industry... Concept vending machines.
This has led us to being introduced to a lot of different vending machines and sleepless nights coming up with solutions to New Vending machines.

Machines that dispense:
Flowers
Ice & Purified water
Cigarette machine Pouch Tobacco 25gm & 50gm versions
Toiletries Machines
Cashless Vending solutions & payment Systems
Vending machine remote monitoring
ATM concepts
Surgical Gown dispensers
Nicorette Gum Machines for Hospitals
Digital advertising on Vending machines
Surf Board wax
Sunscreen
PPE vending machines
Drinks
Snacks
Frozen Food
Healthy Vending
Meals vending machines
Frozen Drink Vending Machines the Quinzee by NiceVend.com.au
Frozen Drinks of PURE real Protein Shakes for Gyms
Frozen Drinks for Hospital Grade Protein Nutrient Shakes for cancer patients in Hospitals, Nursing Homes & Clinics
Frozen Energy drinks machines
Rehydration Vending machines for mines, gyms, worksites
There are very few types of Vending machines we haven't seen.
So again we say with great pride... if you need a vending machine supplier... we can help.
Call Us or Email us today... we'll look after you!

Buy, Lease, Rent or Get a free vending machine supplied on your work site or office.
We organise the supply of modern reliable vending machines for snack, drink, ice, cigarette, toiletries, healthy products, ice cream and frozen products, Microwave Meals, Coffee - Hot or Cold frozen drinks and many more vending services in Melbourne, Sydney, Perth, virtually anywhere in Australia.
Vending Machines that take Coins, Notes, Give Change, TAP & Go Cashless... and coming soon... Pay with your Mobile Phone!.
Vending Machine Suppliers - or going to be one... feel FREE to Contact Us for any advice or technical issues, market knowledge, site leads, tips & tricks.
We also have vending repair technicians all over Australia.


Vending Machines Australia wants to be your Australian Vending Machine Supplier.
Call Us or Email us today... we'll look after you!
Obligation FREE Quotes on Vending a machine for sale... New or Used and we can arrange Vending Finance.
Just ask us for what type & style of vending machine you need supplied.
ANY Enquiries or Questions we would be more than Happy to Answer!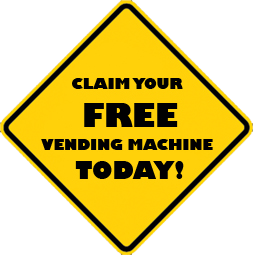 Please call NOW
Get your FREE vending machine today!
Vending Machines Australia can supply a free vending machine, "so if you need a new vending service for your workplace?"
We offer your workplace the complimentary delivery, installation and ongoing service of vending machines.